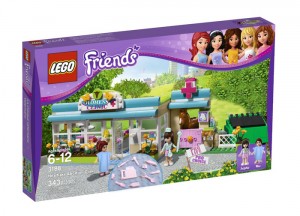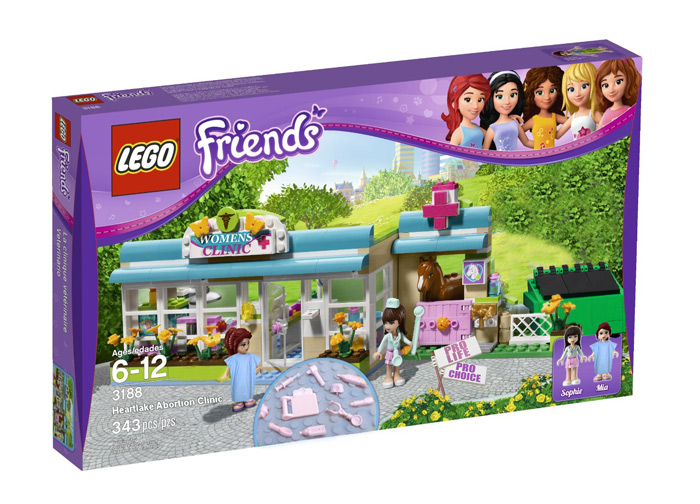 Editors Note: Marcus I. Rensworth is the lead Toys & Games writer for Fun Sized â"¢ Media.
Billund, Denmark – August 1st 2013

–Â  This week, Â the Lego corporation, based out of Northern Denmark, held a press conference to announce one of several new additions to its "Friends" line of their popular building toys aimed at young girls. Â The most controversial of which appeared to be a small women's health center, dubbed the 'Heartlake Abortion Clinic'.
The plastic construction toy is set in fictional 'Heartlake City', in which a group of friends including Amy, Sophia, & Mia among others reside. Before opening up the floor to questions, Legoâ"¢ creative director Garth Evans defended the decision: "Legoâ"¢, and any other substantial toy manufacturer, is directly influenced by the markets in which we do business, and the United States is no exception." Â Evans continued, "the direction we are taking the friends line is the product of careful and thoughtful research into the actual lives of young women in our demographic."
When pressed about the timing of the product launch, the marketing chairman of Lego, Doug Michaels, responded, "if we were trying to sell Legoâ"¢ Friends to mid to late teens, Â this set would have been on the shelves years ago, Â so now with nearly 80% of our actual target demographic now familiar with this previously adult element we feel safe that its going to be a solid hit"
The toy itself is a nondescript white building with large windows, and is opened up in the back to allow for imaginative play. Â The front features several flower baskets, and a small horse stable for the main characters such as Mia & Sofia who are avid horseback riders. Â "Here at Lego, we always strive for detail and play value with every set" says Lego Jr. vice chairman Mark Brentin, while showing off the demo set on stage with unique accessories such as consent forms, Â hospital gowns, and several popular ultrasound devices with detailed apparatuses.
"With the Lego friends abortion clinic set, we are vastly expanding the play possibilities of our upcoming generation of women by introducing reproductive health scenarios as an important element, alongside dancing, musical, and equestrian pursuits"  insisted Evans, while toying with the small green dumpster complete with working lid that is included in the new set. 
The question of the politics was raised by several reporters, and it was answered with a brief statement from Creative director Garth Evans. "We understand this particular medical procedure is a hotly contested issue, and to appeal to all involved we included pro life picket signs, and adoption counselor figures to reflect alternative views for our ambiguously aged 'Friends' characters to express during play". 
Nearing the three hour mark, Theodore Roseman, Sr. Financial adviser at Legoâ"¢ stated "As we are aware with all of our product lines, localization is of the utmost importance, and therefore we have adjusted and or removed elements accordingly." Roseman later elaborates on this, and details the version that will ship to Texas which confusingly includes a pose-able 'friends' figurine, a Bible, and several seemingly unrelated household items. After the conference, Chris Billings, a self proclaimed AFOL (Adult fan of lego) present at the event elaborates excitedly, after the announcement."The stripped down version of the Heartlake Abortion Clinic' is really a treat for collectors like me, because of the special pieces you cant find in any other set, like medicine bottles and coat hangers."  Billings also added, "And its this set especially that highlights logic and creativity during play".

Vincent De'lagase, the original creator of the 'Friends' line at Legoâ"¢, closed the conference with a few last words. "The Heartlake Abortion Clinic is really a natural progression of the 'friends' series. Â Lets remember the whole line is full of time consuming and expensive activities, such as keeping and riding horses, river boating, raising exotic animals, and even running a small business. having an unplanned child on top of all that would completely negate the 'Friends' lifestyle". Â When asked about a possible spinoff taking on the result of the 'Friends' characters carrying pregnancies to term and raising kids as young teens, De'Lagasse smiled, with a quick "no comment". Â 
   Sources report, before exiting, Garth Evans additionally denied claims of a boys crossover set, by saying "I really don't see the possibility of any ongoing relationship or financial commitment relating to this new set at this time by the Boy's Lego design department".
The Lego 'Friends' "Heartlake Abortion Clinic" will hit shelves in fall of 2013, just in time for the Christmas shopping season, and is completely fictional if you hadn't of figured it out already.
Marcus I. Rensworth © 2013 Fun Sized ™ Media.
—Parody–
https://funsizedcomics.com/wp-content/uploads/2013/08/abclinic.jpg
504
700
Michael
https://funsizedcomics.com/wp-content/uploads/2013/04/betterhead.png
Michael
2013-08-13 17:11:45
2013-08-13 17:11:45
Lego Friends 'Heartlake Abortion Clinic'